Rock Cottage Media
Rock Cottage Media is ready to provide professional HD video services for your wedding or event.
Finding a videographer is easy.  Finding a videographer that works tirelessly to ensure your event is properly covered from beginning to end, and is able to reduce the footage down to a product that you'll be proud to share with others is much more difficult.
Rest assured that Rock Cottage Media won't call the job done until you are completely satisfied with the final product.  Let us capture the movement of the moment for you.
About us:
Rock Cottage Media is owned by Jordan and Allison Meserole, a couple who first fell in love under the roof of a rock cottage.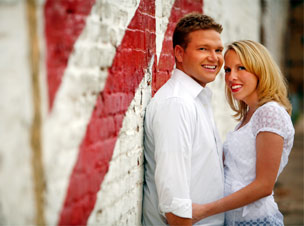 Jordan graduated from Texas A&M with a degree in journalism.  In his time as chief photographer at KBTX-TV, a CBS affiliate in Bryan/College Station, Jordan earned awards for photojournalism from the Texas Associated Press and Houston Press Club, including an award in the category of "Best Photojournalist - Individual" for the Texas AP Division 3.  His passion for telling stories always translates into a product that stands above the rest.  Jordan believes in relying on his skills with the camera to capture the moment in its purity.  He feels that using tricks or fixing video with editing software distorts how you remember the real moment.
Allison studied for two years at Texas Christian University, before finishing her degree in Communication at Texas A&M.  Allison serves as the promotions director for Bryan Broadcasting in Bryan/College Station.  She coordinates on air promotions, as well as appearances and events throughout the community, and has assembled award-winning entries for the Texas Association of Broadcasters.  Having recently "tied the knot", Allison understands the great task of wedding planning and remembers how choosing the right professionals makes all the difference in the world.  She looks forward to Rock Cottage Media becoming the right choice for your wedding and is thrilled to put her experience to work for you.
For these two, making the decision to become partners in life and in business was easy.  You'll be hard pressed to find a videography team that enjoys working with each other more than Jordan and Allison.